Hello and welcome to another edition of Games with Coffee!
Today is Part 3 on "The Guide on Being a Mature Distinguished Gamer!" Check out previous parts here:
Part 2 – Success, Failure and The Gaming Mindset
Part 3 will discuss about Respect, Kindness and Empathy; three things that every Mature, Distinguished Gamer (MDG) should embody on a daily basis, whether it be in the real world or the virtual one.
With all of the outrage and negativity surrounding our world and the cruelty exhibited by people of power on a daily basis, I believe that an emphasis on kindness, respect and empathy are needed now more than ever. And not just towards others, but to the self as well. I believe that if one is kind and respectful to one's self, they will extend that kindness and respect outwards towards others.
Today, I'll share some of my experiences regarding these three things, both within and outside of the gaming sphere. Let's dive in to Part 3 on The Guide on Being a Mature, Distinguished Gamer.
---
Be Kind to Yourself
Quite possibly the kindest thing anyone has ever said about me was this recent tweet from my good friend and Magely compatriot, The Mail Order Ninja Mage (AKA Daniel Flatt of Home Button Gaming):
Hey, what if we all show love today for a blogger who we think is awesome, who inspires us, or who we just plain like?

For my part I really want to shout out @GameswCoffee. He is, hands down, one of the kindest people in the space. Always warm, welcoming and a great writer also.

— Daniel Flatt (@mailorderninja) June 25, 2019
I may be a little modest about this, but I suppose what he is saying is the truth: I try to be as kind and as welcoming to everyone as possible. I do this simply because I treat others the way I want to be treated – something that many people learn in grade school. More importantly (and to reiterate my belief that I introduced in the first section), if one is kind to oneself, he or she will extend that kindness to others.
So, how do you be kind to yourself? It's as easy as treating yourself as your best friend. How would you talk to your best pal in your life? It could be similar to Marina and Pearl from Splatoon 2? The two rib on each other constantly (especially during a Splatfest!) but they truly support and care for one another and want each other to succeed.
Perhaps it's similar to the relationship between Solid Snake and Otacon from Metal Gear Solid? These two forged an unlikely friendship under difficult circumstances and it remained strong and steady throughout their many adventures afterward. And they also have an awesome bro handshake.
However you treat your best friend, you should definitely treat yourself in the same way.
When you make a mistake or say or do something strange or inappropriate or even start a conflict with someone, firstly, don't beat yourself up. Talk to yourself the same way you would talk to your best friend if they screwed up. What if you don't have a best friend in that way? Another strategy is to speak to yourself in the same way you would speak to your hero or shero in their time of need. Like reminding Cloud that, sure, you gave your mortal enemy the Black Materia, but it's not too late to save the Planet? Or mentioning to Knuckles that it's OK that he fell for Dr. Eggman's schemes once again (for what seems like the millionth time), and that it's not too late to do the right thing? Same sort of thing, but turning it inwardly to yourself.
Secondly, Forgive Yourself. Everyone makes mistakes, everyone says or does stupid things. We are not infallible beings, we are but human; Flawed and strange in every which way possible, but interesting, important and special at the same time. So give yourself permission to forgive yourself for your mistakes instead of beating yourself up about it.
Thirdly, remind yourself that you are worth something, that you are unique and that you deserve kindness. Don't think and believe for a second that you are average and ordinary and don't listen to others when they say so: you can strive to be Excellent and Extraordinary in your own way. Don't make your mistakes define you as someone worthless, instead tell yourself that this is a learning opportunity and that you'll grow stronger for it.
Once you give yourself a chance to be kind to yourself, you'll find that it's quite easy to extend that same kindness towards others.
Hate The Game But Respect the Gamer
Before we get into the meat of this section, let's take a look at the following scenarios:
You know that feeling you get whenever you're tearing it up in a multiplayer game (online or offline) and you're on a roll? You keep winning and winning and then, out of the blue, a new challenger approaches and completely annihilates you. Every strategy you throw out and every trick in the book gets countered and you're left completely helpless to this superior player as they cruise over to victory.
Now, two things can occur at this point: the first could be that you rage, scream and spittle at this player who has bested you, ruined your win streak and outright embarrassed you in the game you specialize in. You may be so vexed that you decide to harass this individual in whatever way you can. If the interaction is online, this person may block you or flag you as inappropriate to the admins and therefore have you suspended for some time. If this happens offline, then that person may look at you in a negative light due to your disrespectful behavior. Or they may look at you as a crazy person and do their best never to play with you again.
The second would be recognizing and acknowledging the skill that this player possessed and moving on from that defeat. You may seethe privately that you've been thoroughly owned, but online or offline, you extend a "GG," and continue on your merry way. Later, you check through the replays or recall the match in your head and see where you did it right and where your opponent took advantage of your weaknesses. You nod and possibly say to yourself: "Wow, that guy really exposed the holes in my defense, mad respect to them for showing me where to improve." If you're playing offline, chances are the person beside you would be willing and able to help you improve your game.
Now, I'm sure everyone wants to act in accordance to the second scenario, however, sometimes that's not always the case. Sometimes you'll get an opponent who's sole purpose is to troll the heck out of you and goad you into making a critical mistake. Then when they are victorious, they perform some form of act solely designed to further infuriate you (spamming emoji's/emotes, repeatedly striking taunting poses, teabagging, etc.). The key here is to not take offense to it and (if possible) rage about it in private. Or mute/block that person and continue on your merry way. An MDG strives to rise above trolling behaviour, and doesn't have the time or energy to engage in that way either.
In conclusion, you should hate the game, but never ever hate on the player, regardless of how they are acting toward you. It says more about your character if you don't stoop to the level of a troll and behave disrespectfully.
So, how does the MDG approach this in real life? Simple:
Respectfulness IRL
Unlike online or even split-screen multiplayer (a rarity in this day and age), you can't really choose who you have to work with at times. Sure, you can randomly pair yourself with other players in quick matches online, but 90% of the time, players forget about each other and move on to the next match. Unfortunately for us, that doesn't apply to coworkers.
Chances are, you'll either be working or already have worked with the individuals you see day in and day out in the office. Some coworkers can be good team members and a pleasure to work with. But the opposite is true and the MDG must be prepared to that inevitability.
A rule that the MDG must remember is that respect is a two-way street: In order to gain any respect, one must be respectful in kind. Sometimes that means biting the bullet and working with Joan from logistics or Doug from accounting to get things done, regardless of Joan's nosiness or Doug's constant needling at your appearance or working habits.
A good habit to establish is what I call the 80/20 rule: List down what you like and what you detest about this person. The rule here is if you can find and focus on at least 20% of positive qualities about that person, the other 80% of that person doesn't really matter. In that sense, it prevents the other offending person from affecting you and your work.
If the person does frustrate you to no end, another suggestion I have is to write down your frustrations about this person in private. You can safely air out your grievances towards this individual while still maintaining a professional working relationship. Just make sure that what you're saying is not publicly accessible. The best thing to use would be a journal or even a sheet of paper which you tear up into pieces.
Respect doesn't solely come from doing well in your work. It also relies on your ability to be personal and empathetic to others: those so-called 'soft skills.' Let's talk about those.
Empathy in the Mature Distinguished Gamer
Alright, let me preface this by saying I'm that stereotypical, overtly nice Canadian, the one that says sorry for just about everything and that guy who speaks very formally and politely. The thing is, you don't have to be a Canadian or overtly nice or a well-spoken individual to be empathetic to others.
For me, I always try to put myself in other people's shoes and understand how they are feeling. Not only that, I take the advice of wise old Master Splinter and lend my ear to those who wish to use it to talk of their inner struggles.
Being genuine with others, helping them with their problems and getting yourself out of your own head – those are things that help me feel empathetic towards others.
But what if you're not much of a people person? All it takes is to treat others with the same decency that you expect from others. If you can lend a hand when possible, do so, otherwise don't sweat it. Sometimes, displaying the bare minimum of empathy towards others is good enough.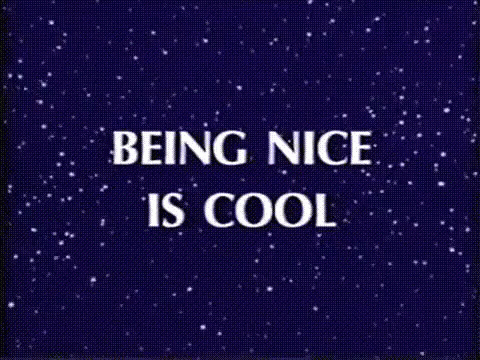 Not all people are receptive to empathetic gestures and that's perfectly fine. Give them space and move on. If they are though, set reasonable limits and know when to back off, change the subject or stop talking altogether. When they're going into inane details about their third-ex or droning on about their endless complaints at their job, it's time to end that conversation and move on! But, if they're going on about something legitimately serious in their lives, do your best to listen and understand their feelings.
You're not going to get it right all the time. I'm not perfect and I make plenty of mistakes when it comes to other peoples' feelings; I'll say the wrong things at the wrong times, or make an inappropriate comment, or I don't give others my full attention when somebody wants it, or I can just generally be awkward. An MDG, when in such a situation, always tries to genuinely apologize when feelings are hurt and always does their best to be better. Slip ups happen from time to time, but as long as one recognizes and corrects themselves, then things generally tend to work out in the long run.
One Last Thing
Being kind, caring for others and trying to understand and acknowledge other's feelings is an intrinsic part of being human. This human desire to connect with others has been emulated in several video games and we are indeed blessed to be surrounded by various characters we can all relate and look up to in times of joy or sadness.
If you want to improve your kindness, empathy and respect, look to those heroes and observe how they interact with others in their respective games. Some are great examples of how to act towards others and others can teach you how not to act! It's all dependent on what you play.
---
So, how was that? I'm a bit nervous about this one; respect, empathy and kindness are touchy subjects and I really hope I wasn't too preachy about them. If so, let me know in the comments or on Twitter! Also, let me know how you approach these in your life! I'm always interested in how others show respect, empathy and kindness!
The next part is the last in our mini-series and it's about goals. I also have a few important announcements to make at the end, so I do hope you stick around until then!
This has been Ryan from Games with Coffee, reminding you with kindness and respect to Keep Gaming and Keep Brewing.