What's up everyone? Happy New Year and welcome to a new edition of Games with Coffee! I hope your holidays were well and full of rest, food, coffee and plenty of gaming opportunities!
Today, I'll forego a year in review and instead talk about the year ahead. Let's dive in:
Games and Related News
A lot of crazy gaming stuff is happening this year.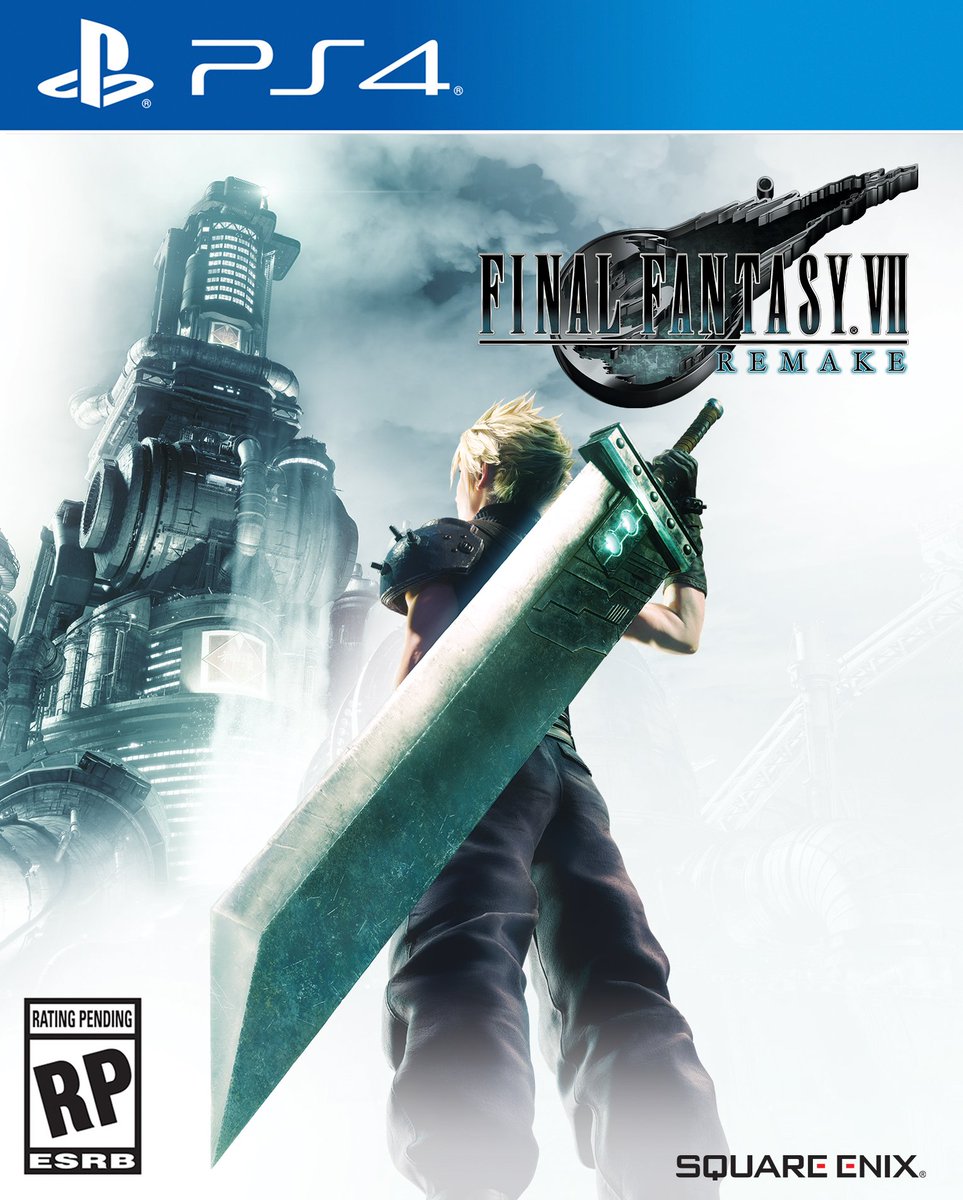 Final Fantasy VII Remake Part 1 is coming out this March April.
Sonic the Hedgehog's first foray into Hollywood is happening in just under a month from now.
A whole wack of other high profile games are going to be released this year and I know that a lot of people are looking forward to their release later this year. Dragon Ball Z: Kakarot, Kingdom Hearts III: ReMind, Animal Crossing and Cyberpunk 2077 are just a few I can name off the top of my head. Also coming later this year are the new next-gen consoles, the PS5 and the Xbox Series X.
While I might pick up the Final Fantasy remake, I plan on tackling some of my backlog this year, meaning (for the most part) I'll withhold purchasing new games for the time being. I also got Dragon Quest XI for the Switch, but it'll be a while until I start on that. For now, I'm going to get through Pokemon Shield, Final Fantasy XII and a couple of smaller games on my Switch before I tackle that beast. And let's not get into my PS4 and Steam backlog…
I need to make a spreadsheet.
Fanfiction
I'm still on hiatus from the blog, but I'm making some amazing progress on my passion project. In fact, I have just finished roughly 75% of the rough draft! I estimate that I have about eight to ten chapters to write and it should be ready to publish in full by mid-2020. Again, each chapter of this story will premier exclusively on Games with Coffee and will be migrated to other fanfiction sites (such as Fanfiction.net) once the story has been fully published.
Another thing that I want to finish is my Legend of Zelda: Black and White series. The idea of a Film Noir-style Zelda was inspired by a TWRM Radio post back in July of 2018. If you haven't read them yet, go and start here. I'll wait. 
The whole story is expected to be completed in roughly ten parts plus an epilogue. I won't say too much, but there will be a betrayal. I just hope it won't be too obvious when all is revealed. More on that will be coming in Fall of 2020.
Posts
My "Guide to Being a Mature, Distinguished Gamer" entries were fairly popular, so I'll be adding some more parts to it. Expect to see topics such as dealing with distorted thinking, mental contrasting and how to keep the positives and negatives balanced within you and even a little section about budgeting! (Because we can always use budgeting tips for this time of year.)
I'll also try to go back to my roots as a blogger. 2019 was a weird year, in that I didn't post as much as I used to (nine posts vs. 31 in both 2017 and 2018!). Despite taking a break and working on the fanfic, I should be back to a more consistent schedule of posting for this year and I got a lot of things to cover. So, expect to see more personal stories, more editorial pieces for discussion, some acquisitions, a few major events and a lot of talk about a certain blue hedgehog…
Collaborations
Speaking of hedgehogs, my good friend Matt from the blog Normal Happenings has begun slowly trickling out posts for "The Characters that Define Us!" This is a massive, year long collaboration that involves over 52 writers discussing the characters that had made a lasting impact on their lives. Yours truly is a part of this collaboration and I'll be talking about none other than the Blue Blur himself: Sonic the Hedgehog! I don't know when it'll be released, (Matt's being very hush-hush about the schedule) but keep it locked here for updates when they become available!
I have some more Sonic related stuff to discuss, but that's gonna have its own section. 🙂
On the other side of the console war spectrum comes the Super Mario Multiverse collaboration, organized by my other good friend, The Well Red Mage! Scheduled to go up on March 10 (Mar10 Day), this massive collab will feature over 100 writers talking about Mario games of all kinds. I myself will share a little story about how Super Mario Odyssey helped my little family during a tight situation.
Streaming
This past Christmas, a cousin of mine (let's be real, he's more like a brother to me) who I haven't seen in ages gave me a gaming PC built from spare parts he wasn't using any longer! The reason behind the gift was to support my endeavors. Oh, and to do some online gaming as well! Honestly, no words could express how much that gift meant to me – both the computer and the gesture behind it are incredibly powerful.
With a new, more powerful rig at my disposal, I've decided to venture back into the world of streaming. I'm on Twitch and I'm planing on streaming every Sunday nights starting in February. You can check my stream schedule to your right under the freshly added "What's On The Menu?" events calendar.
This now begs the question: What am I going to stream? Well, I'll explain below:
#SONIC2020
I've decided to dedicate this year, 2020, to Sonic the Hedgehog. To that end, I'm doing several things in tribute to this awesome character:
I'm starting a show on Twitch called "The Sonic Sunday Power Hour!" Inspired by my #SonicSunday posts on Instagram, every Sunday, from February to the week of Sonic's birthday, I'll be streaming a Sonic title for one whole hour. I'm in the midst of preparing the first stream for February 2nd. You can also check out my test streams (see What's On The Menu on the sidebar) and provide feedback on my audio/visual setup! I want this to look and sound decent when it all starts, so your help would be greatly appreciated dear readers!
I'm getting a tattoo to celebrate the character! I won't say when I'll get it, but I'll let all you know when it happens. I've designed it myself.
See "The Characters That Define Us" in the collaboration section above. It's a huge deal.
A movie review of Sonic the Hedgehog! It'll be a first for the site, so please bear with me. I predict it will be terrible (as all video game movies are), but Detective Pikachu surprised me greatly, so… *shrugs*
And finally, my much talked about, much anticipated debut of my fanfiction passion project, titled: Mobius VII Book I: Escape from the City.
Site Updates and Content Scheduling
It's also time to do a little housecleaning here at Games with Coffee. I've designed and uploaded a brand new header, added some new social media links and the aforementioned events timeline that I'll update periodically to show what's coming up soon on the blog. This will also help me maintain a consistent schedule, so I don't put up nine freaking posts in a year.
While most of these changes have been implemented in the last week or so, I'm pretty limited as to what I can do with other things (say, implementing a Dark Mode). Which is why I want to upgrade my plan here at WordPress. I feel that with a Premium plan and access to CSS, I can do so much more to make Games with Coffee your number one spot to just chill out and read some stories while drinking coffee.
You may have also noticed a little blue button on the side asking to buy me a coffee. Clicking there will take you to my page on Ko-Fi, where you can support me for the price of a coffee. Donations are non-recurring and the proceeds will all go towards upgrading the site. I'm about halfway to that point as of writing. So, if you could buy a coffee for your favourite coffee-fueled writing machine, I and this website would sincerely and greatly appreciate you for it.
Plus, you get an awesome and inspiring thank you note from yours truly for every coffee you buy. And we could all use some inspiring words from time to time, am I right?
And Finally, Some Personal News
So… remember this post a couple years ago? I started this job with a fresh, new mindset and for the most part, it's helped greatly. Until I got laid off due to restructuring. Yep, I'm jobless to start the new decade.
But, it's not all that bad. I look at it as a chance for a new beginning. Ten years ago, I was just finishing school, just got hired for my first job, in debt, dating, writing a fanfiction and having basically no clue what direction my life was going to go into.
Here in 2020, I'm married, I have my own home, I have a pretty good career in engineering, I have an amazing kid who's totally into Sonic the Hedgehog (like his old man!), I have this awesome blog with these way past awesome people reading it, I'm collaborating with truly spectacular folks like The Well Red Mage and Matt from Normal Happenings, I'm going to start streaming soon and I'm still writing fanfiction! And… actual original fiction too. Maybe. Who knows?
I'm pretty thankful for all of those things, but I still feel unsure of what the future holds. However, if I continue to espouse everything I've talked about here on this blog, about being a Mature, Distinguished Gamer, then I'm sure everything will work out.
---
So, what's next? Well, my first test stream has been planned for this Sunday. I put up a Twitter poll to request what game I should test my setup with, so check that out and vote! Otherwise, I'll see you this Sunday at 9:30pm Eastern for The Sonic Sunday Power Hour! Hope to see you there!
This has been Ryan from Games with Coffee, reminding you to Keep Gaming and Keep Brewing.
---
Did you enjoy this and other content on Games with Coffee? If so, please consider lending your support by buying me a cuppa! You can click that blue "Buy me a Coffee" button on the sidebar, or click here to be taken to my Ko-Fi page. All funds go directly towards maintaining and upgrading this site for a more reader-friendly experience.